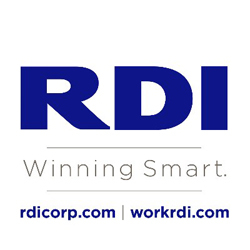 Customer Service Representative
Cincinnati, OH
Health Insurance, Life Insurance, Dental Insurance, Vision Insurance, Paid vacation
At RDI, we believe in winning smart by providing customized, yet highly strategic solutions. We believe in teamwork, which is why our family of companies is a mix of cognizant, strategic, resilient, and passionate individuals, each with a unique skill set that contributes to the end goal: Winning.

So, we need you to win. Do you have a passion for helping people? Do you know the value of outstanding customer service? Are you looking for an employer that offers stable employment promotes from within and provides a competitive benefits package, not to mention other outstanding incentives (cash bonuses, company contests and giveaways, and so much more!)

Currently, we are seeking #ThoseWhoHustle for multiple well-known national clients. As a Customer Service Representative, you will be receiving inbound calls and performing outbound calls while working with a team to provide customer service.

Our goal is to give you opportunities to grow and advance through RDI. We want you to be our next manager. We will train you in proper skills, communication skills, and help you learn to give customers the best experience in the industry.

Our abundant perks include:
• Business casual dress code, because comfort is key.
• 2 weeks of vacation, because everyone needs a break!
• Health, Dental, and Vision Insurance
• 1 year of retail customer service or call center experience.
• You love to get that win and meet your metrics.
• Positive attitude, professional communication skills, and a desire to go above and beyond.
• Must attend all scheduled training. Good attendance is a must.
• Must love to talk on the phone. It's the core of our industry.
• Must be tech-savvy. You'll be helping our customers on your computer while on the phone so you should be pretty good at multitasking.

• Make sure customers have the best experience possible.
• Work within a team to provide solutions.
• Meet and exceed goals.
• Identify and escalate priority issues.
• We offer varying shifts, so having open availability is a huge plus.

We are an Equal Opportunity Employer.
12738